How to hide radiator pipes
The copper (and sometimes plastic) pipework that carries water around your central heating system is just as important to the function of keeping your home warm as your boiler and the radiators on your walls.
But, unlike your beautiful radiators, your copper pipework can be a little ugly and not much to look at.
Painting your pipework can be time consuming and the result isn't always pleasing on the eye, and drilling channels in walls can be expensive too.
So what options are available to someone wanting to cover their radiator pipes?
In this BestHeating Guide, we'll look at the cost-effective and convenient ways to hide away your radiator pipes.
Radiator pipe boxing
Before
After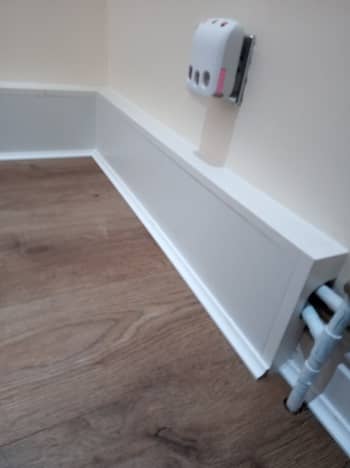 A pretty simple and inexpensive way of covering radiator pipes, boxing involves installing wood around your pipework – effectively creating a "box" around the pipes to hide them away.
This is a very common way of dealing with unsightly radiator pipes that run along walls, and the chances are you may already have some boxing in your bathroom or kitchen.
You can help to make these boxes blend into your decor by painting them the same colour as your walls, and will definitely achieve a neater finish than just painting your pipework.
However, some radiator pipe boxwork can make a room feel smaller than it is, and for that reason some people are not huge fans of this pipework hiding approach.
Although painting them can help the radiator boxes blend into their surroundings, covering radiator pipes with a box can sometimes look and feel a little clunky, so it's important to consider the impact this method may have on the overall look of your space.
Adapted over-skirting boards
As an alternative to a larger box, you could use specially-adapted skirting boards to cover your radiator pipework.
These can be used as a replacement for your existing skirting boards, or you can purchase adapted baseboards that sit atop what you already have in place.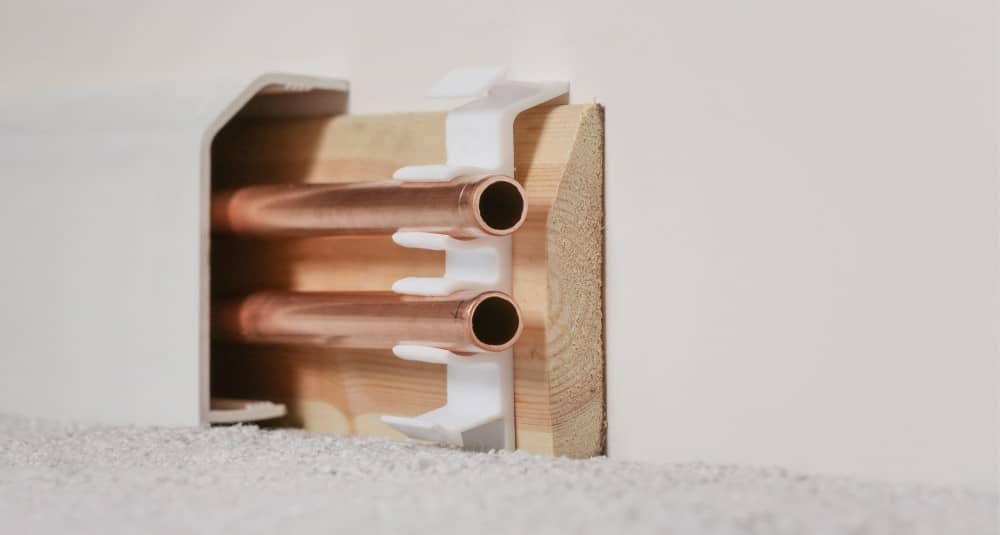 As you can see from the image, these skirts have a recessed section to the rear to accommodate the pipework and create a neat finish against existing skirting.
There's a distinct advantage to covering radiator pipes in this way, as it makes them completely invisible and is relatively inexpensive when compared to the cost of boxing in.
Another key benefit of this approach is the consistency of finish you can achieve.
No matter how good you may be at woodworking, if you're creating your own radiator box from scratch, using MDF or some other material, you may not achieve the desired consistency of finish that you can with ready-made recessed skirting boards.
Radiator pipe sleeves & pipe connectors
There are so many different names for these it can be hard to keep count!
Radiator pipe connectors are also known as pipe sleeves or pipe shrouds – and some are even listed as "piping kits" – but whatever you may know them as, they do a great job of hiding away unsightly radiator piping.
It's obvious that pipe connectors (as we like to call them at BestHeating) are not going to be much use for the pipes that run along or up your walls, but in terms of providing a neat and attractive finish besides a radiator they are a quick and simple way of covering radiator pipes.
Slotting over the top of your central heating pipes like a stylish metal glove, pipe connectors add that important finishing touch to any new radiator installation.
To achieve the best finish possible, it's important to install pipe connectors that are the same (or a similar) colour to your radiator valves.
We have a broad selection of pipe connectors at BestHeating, each designed to complement the look of your new modern or traditionally styled radiator.
Shop pipe connectors at BestHeating
Super quick radiator pipe covering "tricks"
These are less "tricks" and more cost effective (and lazy) ways of hiding radiator pipework.
For those of you that prefer not to spend a lot of time, effort, and money on such trivial matters, the following tricks could be just what you need to find a radiator pipe covering solution!
Just paint your radiator pipes
The most common "anyone can do it" friendly solution to covering radiator pipework – simply painting the pipes.
Make your pipes blend into their surroundings by painting them the same colour as your wall, or live dangerously and contrast the colour of the pipework in something entirely different.
Achieve a quirky or industrial look to make them stand out or cover them up with minimal effort and at a low cost too – with bog standard radiator paint, that's ideal for copper piping, retailing at around £5 for a small tin.
Hide pipes with plants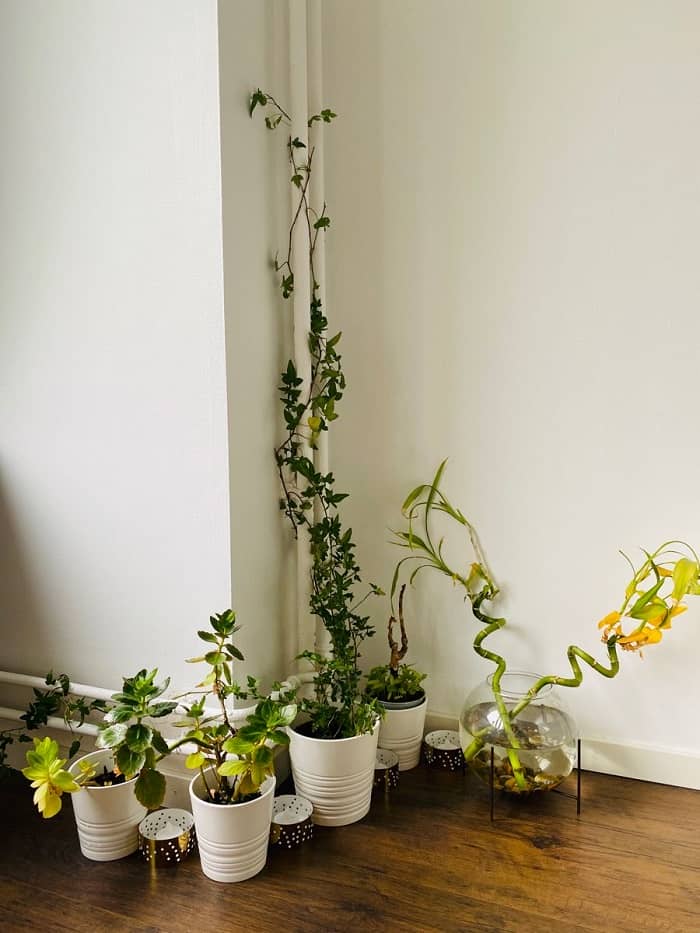 More suited to pipework running up the walls rather than along the skirting, the addition of a potted plant like a money tree or a Yucca can work wonders in hiding radiator pipes.
Position tall houseplants in front of the pipes wherever they run up the wall and, for those pipes that make it all the way to the top of the wall, use hanging baskets to draw attention away from the pipes nearer to the ceiling.
Or, for a different approach, use a climbing plant like Ivy to incorporate the pipework into your design scheme.
The freestanding furniture trick
If you have radiator pipework near your skirting, and can't be bothered going to the trouble of boxing them in, using freestanding furniture with thick legs could help you solve the issue.
Simply place furniture in front of the wall being careful not to lean it against the pipes in case they get too hot.
This may not be a permanent solution for covering up your radiator pipes, but at least you have a temporary one for when those important visitors come round.
Is it worth hiding exposed radiator pipes?
Before you rush headlong into hiding away your radiator piping, it may be worth asking yourself if hiding exposed radiator pipes is worth all the trouble.
Although you can achieve a neat and tidy finish, hiding your radiator pipes can make it harder to locate leaks if you have them.
In the event that your boiler starts to lose pressure, it could mean that there's a leak on the piping system somewhere, and boxing in your pipework will feel like a fool's idea if that ever happens.
The last thing you'll want to do is to start breaking down walls to try and find the source of the leak.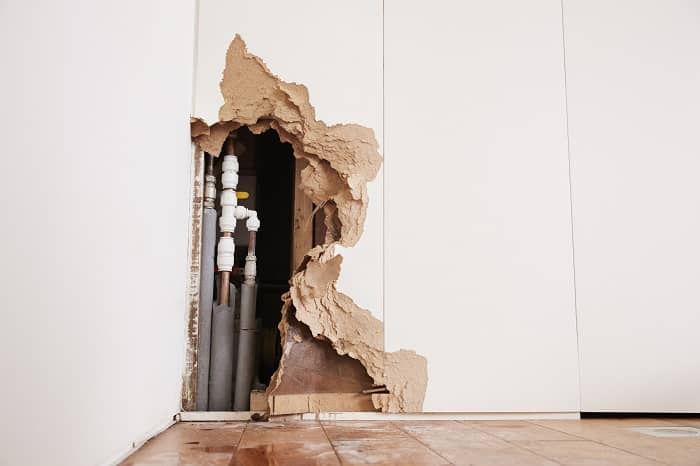 Consider the pros and cons of covering your pipework before committing to hiding them all away.
If you have an old system, chances are it may need some TLC sooner rather than later, which could mean having to dig out piping to fix an issue.
For those with small children though, boxing in pipework around skirting is definitely a great idea – as it can protect your children from burns – much like a radiator cover or cabinet can.
And if you have good looking pipework, you could incorporate them into your home design, so be sure to consider every possibility.
Will hiding radiator pipes affect my home's resale value?
You might think people wouldn't be as picky (or cheeky) as to suggest knocking a few thousand off the asking price of a home because of a few exposed pipes.

But according to research by Npower, having your boiler on show for all to see can impact the sale of your home by up to £5000 – so who's to say that exposed radiator pipes won't have prospective buyers turning their noses up?
How have you covered your radiator pipes?
We're certain that BestHeating customers have found a range of ingenious ways to cover radiator pipework – and there'll be many who have decided against doing so too!
If you have found a clever way to approach hiding radiator pipework, let us know in the comments below or tag us (@BestHeatingUK) on Instagram with your solutions!
Stay safe, and happy pipe covering!

John trained in journalism before finding his way to the BestHeating Advice Centre team. He uses his journalism skills to meticulously research heating topics and bring you the latest news and views on all things home heating related. He'll also beat you at any sport that involves a cue!