Introducing our "view in room" radiator tool
Drumroll please…let's give a warm welcome to the brand new BestHeating Augmented Reality tool! Trust us, you're going to love it.
This new functionality gives you the ability to view photorealistic 3D models of our products in your room through Augmented Reality (AR).
In other words, it makes life so much easier to find your favourite radiator!
We like to think of this tool as an immersive experience where you can visualise different radiators in your home using mobile devices like smartphones or tablets.
Seeing a radiator or piece of furniture exactly as it will look in the home enables you to make a decision with confidence. It also has the potential to transform your decision making process.
You might find that you prefer a different style to what you originally imagined once you see it in the real space. So, how does it work?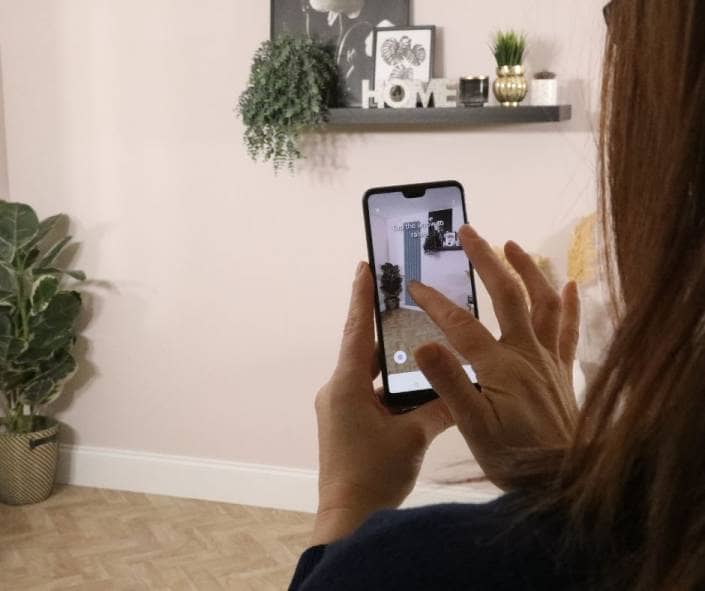 How to use 'view in room'
It's super simple to use. Let's see how it works.
1. Select a smart device
Grab your smart device of choice. The tool is only available on AR-compatible devices such as iPhone or Android mobile and tablets.
2. Pick a product
Visit the individual product page of the radiator you want to view. If you are viewing a product with multiple options such as sizes and valves, please make sure to select your preferred options to enable the AR function to appear.
You won't find the option on every product just yet, but there are plenty to try out! Here are some of our most popular ranges to try out.
3. Tap 'View In Room'
Tap the 'View In Room' button under the image gallery to open the AR tool. This will automatically open your camera and present the model radiator.
Please note that the example screenshots here are from an Android device. The process is the same for iPhone, however you will notice that the screen looks slightly different since the buttons are at the top rather than the bottom.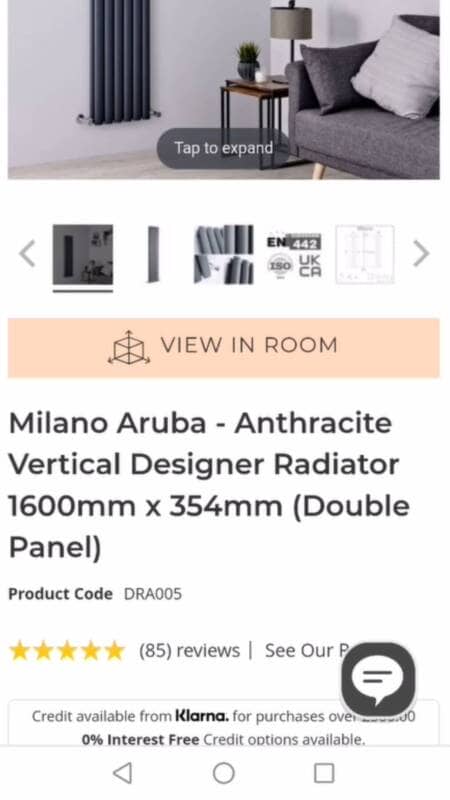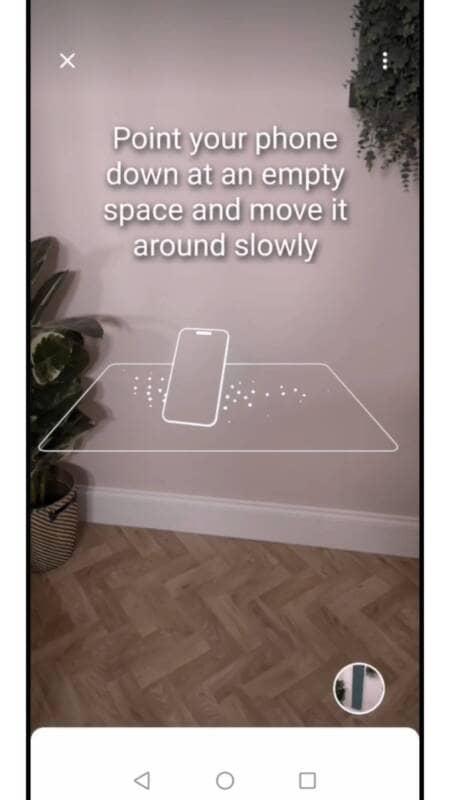 4. Play with placements
Point your smart device towards a space on the wall where you are thinking about installing the radiator. Even if you currently have a radiator in the same position, the new one will sit on the top to help you visualise the new look.
Tap and drag the model radiator to move it around on the wall. Use two fingers to stretch and adjust the dimensions. Keep an eye on the percentage to see when the radiator is true to size.
This is a great opportunity to think about the layout of the room and consider whether a vertical or horizontal radiator would work best.
You could even try rearranging the furniture and testing different orientations to help you visualise how the flow of the space could be improved. Head over to our vertical or horizontal radiator guide for more information and inspiration.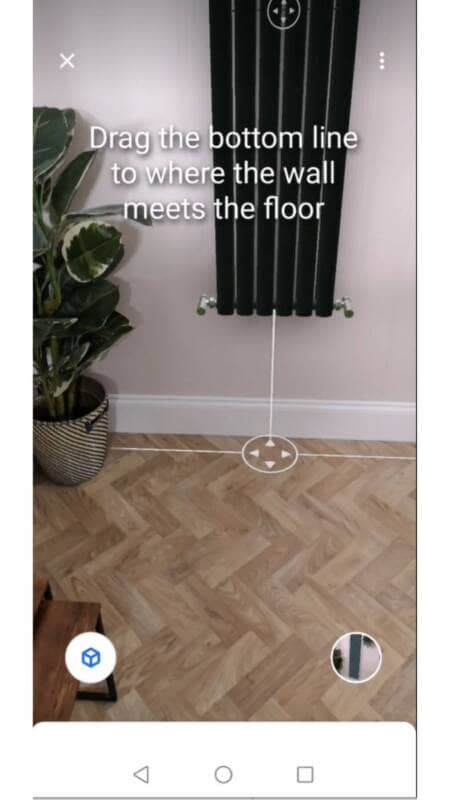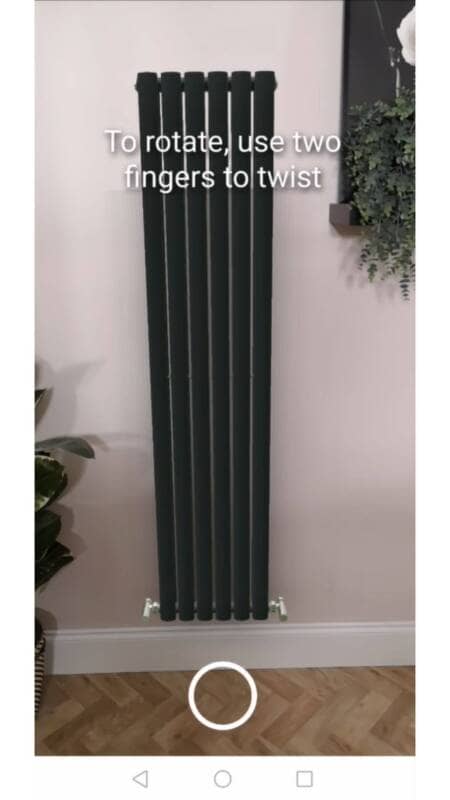 5. Compare your favourites
Tap the screen and use the white button to take a photo of the rad in position. The photos will save straight to your camera roll so you can swipe and compare until you decide on your favourite!
You can also use the button on the top right of the screen to send the image directly to loved ones for approval, or plumbers for advice.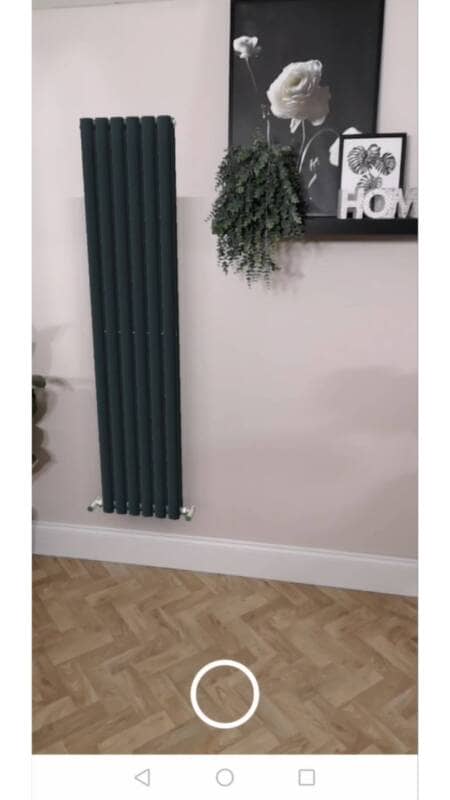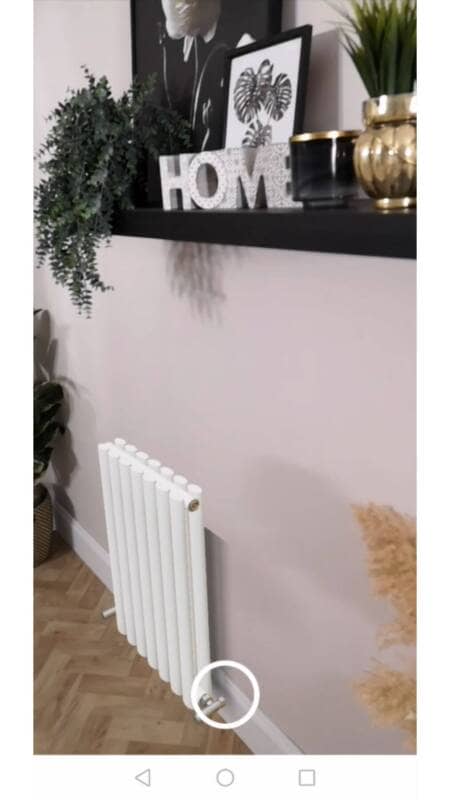 Try it out
Here are a couple of examples where you can try out the new tool and see the radiators in your room. Remember you need to be using a smart device like a mobile or tablet for the feature to function.
Still can't decide?
Tried the new tool and still can't decide which radiator to go for? No problem. We have plenty more interior inspiration for you over on our Find Your Style section.
Make sure to also follow us on Instagram @bestheatinguk to see our radiators in real homes!
Jess has a passion for interior design and wants to inspire people to look at radiators as home decor. She enjoys keeping on top of the latest design and heating trends to ensure the Advice Centre has all the information and inspiration homeowners need to make the best choice for them.