A useful guide to radiator valves
If you've ever asked the question – "Which radiator valves do I need?"
Or perhaps wondered quietly to yourself – "Which radiator valves are best?"
Then you've come to the right place for answers…
What do radiator valves do?
Radiator valves are an essential part of how a radiator, or a heated towel rail, functions.
They control the flow of water through the pipes and ensure that your radiator heats up effectively and efficiently – keeping you, your home and everyone in it, nice and comfortable and warm.
But, did you know that not all radiator valves are the same?
That, not every valve is suitable for use with every radiator?
In fact, some radiator valves just won't be compatible at all and others can't be used with certain radiators because of size, shape and design.
In this radiator valve guide we'll give you the lowdown on valve types and their uses, so you can better understand which radiator and towel rail valves you need to buy and why.
Where is my radiator valve inlet?
Discovering where the valve inlets on your radiator are is fairly straight-forward and is defined primarily by the kind of radiator or heated towel rail that you have.
With a heated towel rail, for example, you will normally find that the inlet position is located underneath at the bottom.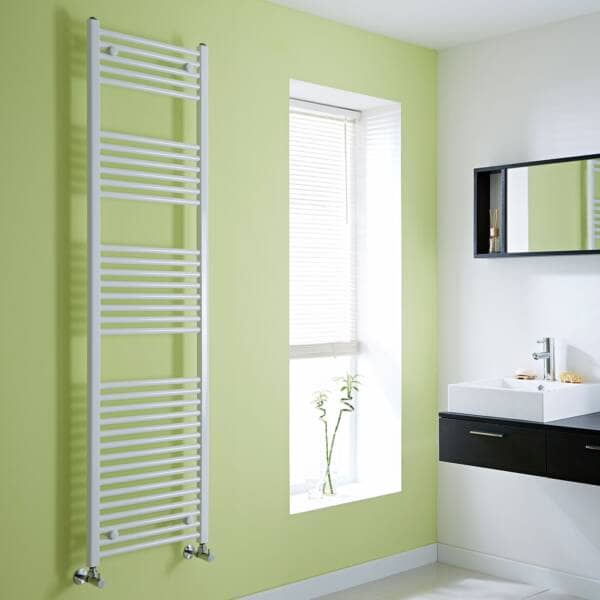 In this instance, if your central heating pipes came out of the wall, you would use angled radiator valves to enable you to join the horizontal pipework to the valve inlet of the heated towel rail.
Standard radiators – like double and single panel convectors or compact radiators – typically have side inlets. These are again found at the bottom of your radiator, but will normally only allow for access from the side (horizontally), meaning that it's likely you'll again need to use angled radiator valves to join the pipework to the inlet.
Some more modern radiator designs feature middle connection valve inlets. These are found in the centre at the bottom of the radiator. Popular across Europe for some time, this kind of radiator is being introduced into the market here in the UK and is a great way to make the most of limited floor and wall space; making them ideal for rooms such as ensuites and cloakrooms.
Finally, it's probably important to note that some radiators may be fed by pipework that comes through the floor and may have inlets (though very rarely) at the back rather than the side; with these types of radiators, straight valves are probably best.
Use the image below to get a fair idea of which valves will be suitable for your radiator or towel rail.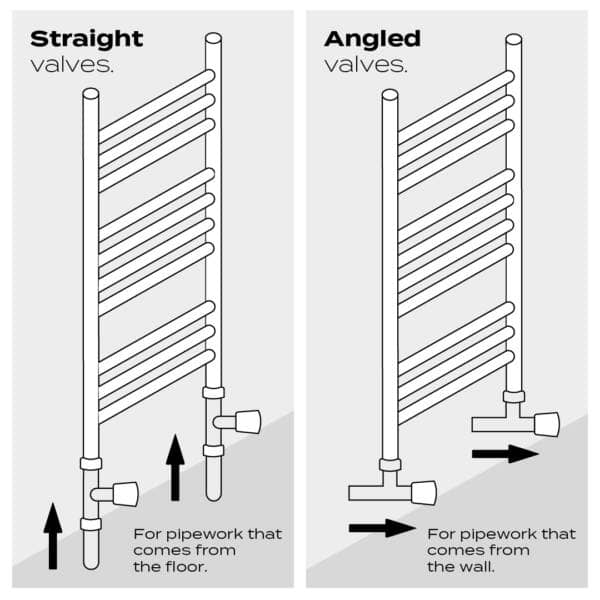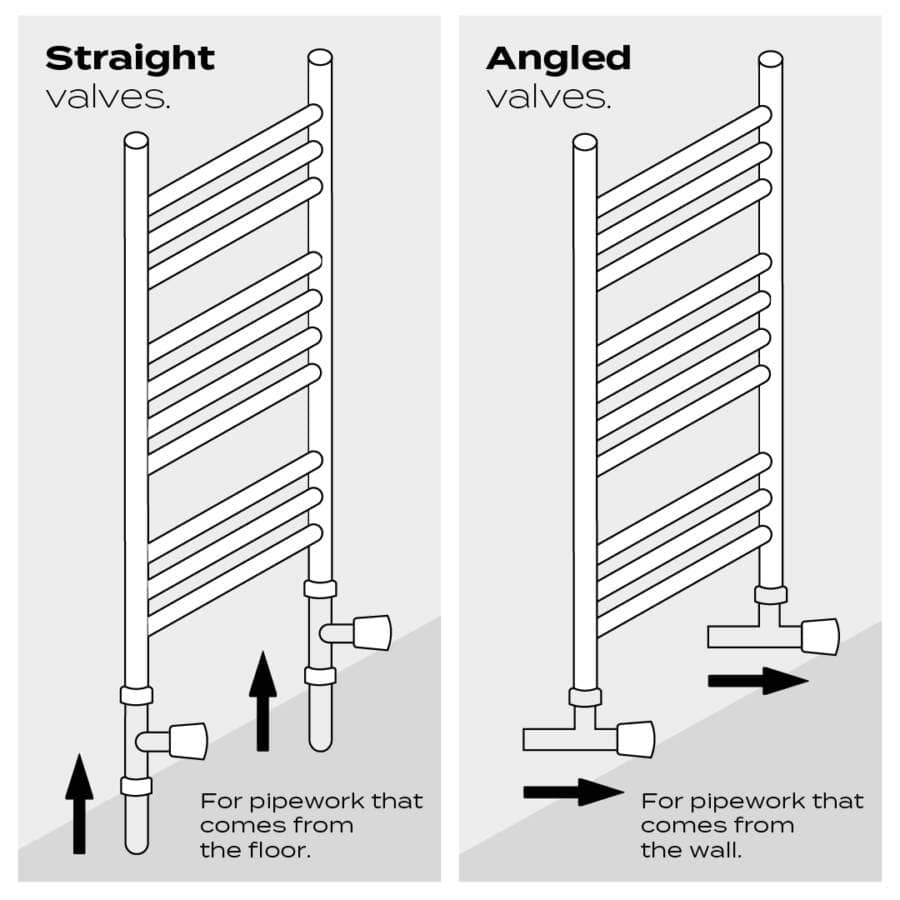 Remember – If you are unsure of which valves you need, you can always give us a call on 0330 027 1490 or drop us an email at info@bestheating.com.
Which radiator valves should I buy?
It's not uncommon for radiator valves to be completely overlooked when you choose your new radiator – in all honesty, it's an easy mistake to make – we imagine you sometimes get so excited by your new radiator, that you forget that you require valves to make it work properly.
There are so many varieties available to you and – if you're doing a complete bathroom renovation for example – they are only really a very small part of a much bigger picture.
But worry not, we're here to help you make the right choice – so let's take a look at the differences between some of the valves that are available and which one will suit you the best.
What types of radiator valves are available?
There are several types of radiator valves.
These include –
Angled radiator valves
Straight radiator valves
H-block radiator valves
Corner radiator valves
Lockshield radiator valves
The first thing to understand when you're choosing which radiator valves to buy is whether your requirements can be met by a set of Angled, Straight or H-Block valves.
In the UK, you'll probably find that most radiators have 'BOE' or Bottom Opposite End radiator valve connections – put simply, the water goes into, and comes out of, the radiator at the bottom and at either end.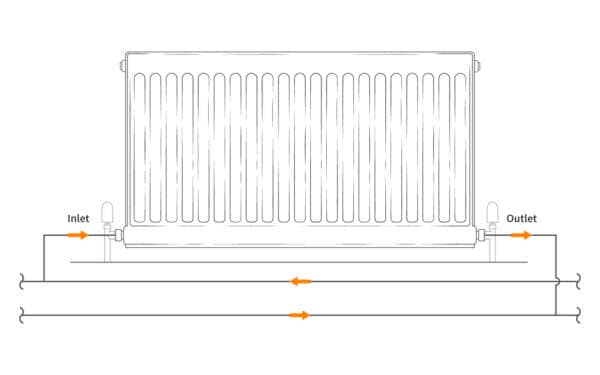 Dependent upon where your pipework comes from – up from the floor, out of the wall, etc – there are different valve types to suit your needs. But what's the difference between them?
Angled radiator valves
Angled radiator valves are the most common type of valves in the UK and, as you may expect with a name like "angled radiator valve", they connect your radiator to your central heating pipes at an 'angle' – generally around 90 degrees.
You would be able to make the best use of these if your pipework comes out of the wall or from below the floorboards, as you'll need an angle to be able to fit your pipes into the radiators inlet connection.
This kind of valve is becoming increasingly popular because they look much neater and leave you with less visible pipework than the straight valve alternatives – making them perfect for more minimalist installations.
Straight radiator valves
Straight radiator valves are so called because inside these valves, the water flows 'straight' and is not directed, diverted or distributed at an angle.
They have no bends or curves and will usually connect from the floor horizontally – so if your pipework is run along the wall and directly into the radiator – or perhaps even straight up and out of the flooring – the best choice to ensure your heating works efficiently would be to purchase a straight radiator valve.
H-block valves
H-Block valves are suitable for use with central or middle connection radiators and they help to minimise the impact your radiator or heated towel rail has on your space.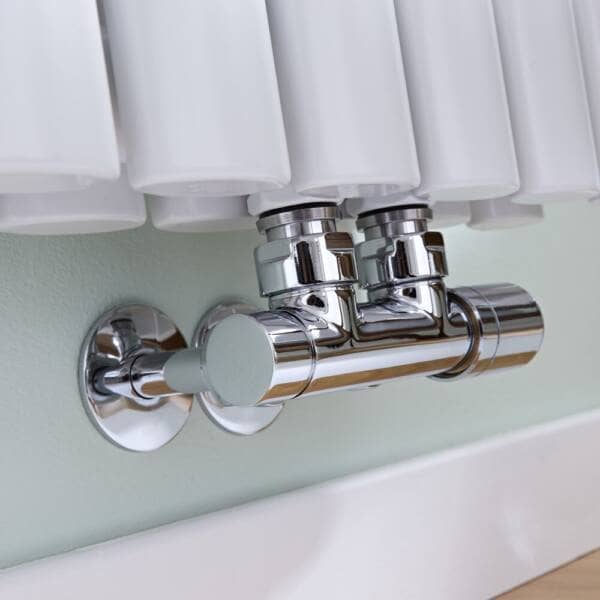 They do this by taking away the need to leave space at either side of the appliance; space that would normally be reserved for the valves.
H-Block valves are also much easier to install, remove and replace than standard straight and angled valves, which makes them a stylish and convenient addition to your home heating.
Corner radiator valves
Corner radiator valves – also known as flat front valves – are more often than not a decorative choice.
Unlike angled radiator valves, a corner valve will not protrude from the bottom of the radiator as much. There can be a (rare) chance with angled valves that you might catch your shin on one and get a nice bruise for your trouble.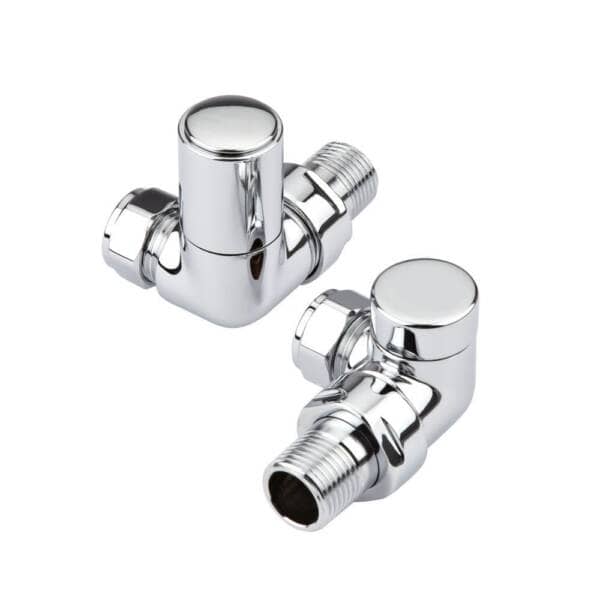 But, with corner valves, you take that risk away entirely because the top of the valve faces inwards – parallel with the wall – instead of outwards. Just be careful when choosing this type of valve though as, dependent upon your radiator's positioning, it can be more awkward to adjust than just using a standard angled valve.
Are there different types of angled and straight valves?
This is pretty simple – there are three main types of radiator valve, these are manual and thermostatic and, for safety, there is also a lockshield valve.
What are manual radiator valves?
Nothing too complicated here, a manual valve is probably the most common type of radiator valve and works in a very similar way to a tap.
You turn it on to allow the water (central heating) to pass into your radiator and when it has reached the desired temperature, you can turn it off again – hence the name 'Manual Valve'.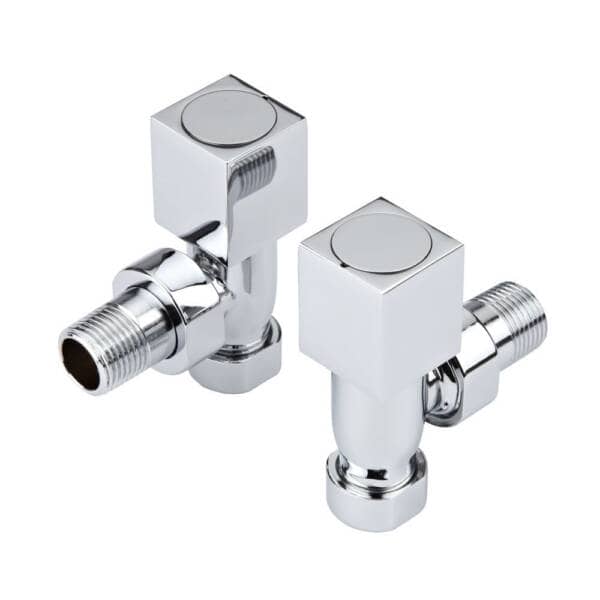 It's important to remember with manual valves, that, though they are very simple to use and maintain, you may have to keep your eye on them because they can allow your heating bill to start creeping up and become more expensive if you start to forget to turn them off.
Manual valves are available in both straight and angled designs and feature a variety of contemporary and traditional styles.
Things to think about when buying manual radiator valves
They are some of the most common radiator valve types, so there are many styles to choose from.
Manual valves are easy to use, but you have to adjust them by hand to control your heat output.
They can make it more difficult to have full control over your heating, as they use a simple "on or off" mechanism.
They don't operate automatically, so won't adjust the temperature without you getting involved.
What are thermostatic radiator valves?
These clever radiator valves give you temperature control at the turn of a dial, can potentially reduce your energy consumption and can also save you money on energy bills.
Thermostatic radiator valves (also known as TRVs) measure the temperature in the room and then adapt the heat output of the radiator.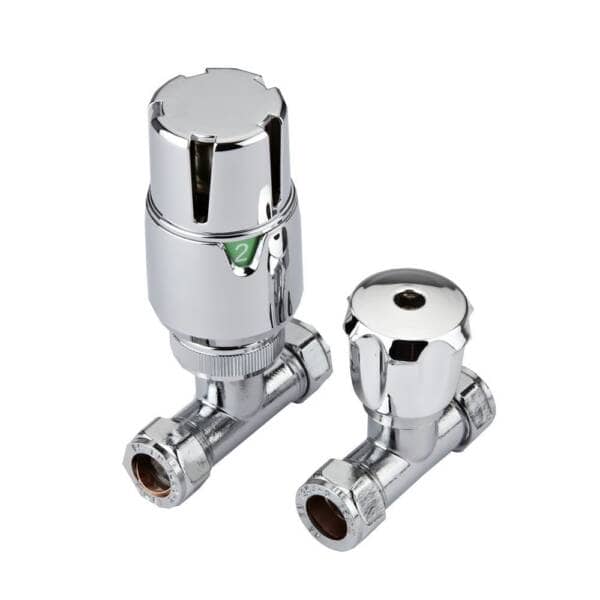 When the room temperature reaches the desired level, the valve closes to stop the flow of water and prevent the radiator from getting any hotter. This mechanism means you aren't heating the room to a higher temperature than is necessary. It also allows you to heat rooms individually, so a room which is not often used can be heated to a lower temperature than a room which will be frequented often.
As with their manual valve family members, thermostatic valves are available in straight and angled designs and in a range of styles to suit your interior design scheme.
Things to think about when buying thermostatic radiator valves
They're an environmentally-friendly option.
They make it easier to control the temperature of individual rooms.
You shouldn't use them in the same room as your thermostat
Bathroom humidity can impact how they work, so don't stick one in the bathroom
Though more expensive to buy, they'll help to reduce long term energy costs
For more info, check out our full TRV Guide here.
What are lockshield valves?
A lockshield valve is a valve on your radiator that is usually covered with a plastic cap.
These valves are used to control the amount of water that flows back out of the radiator and into the return pipework.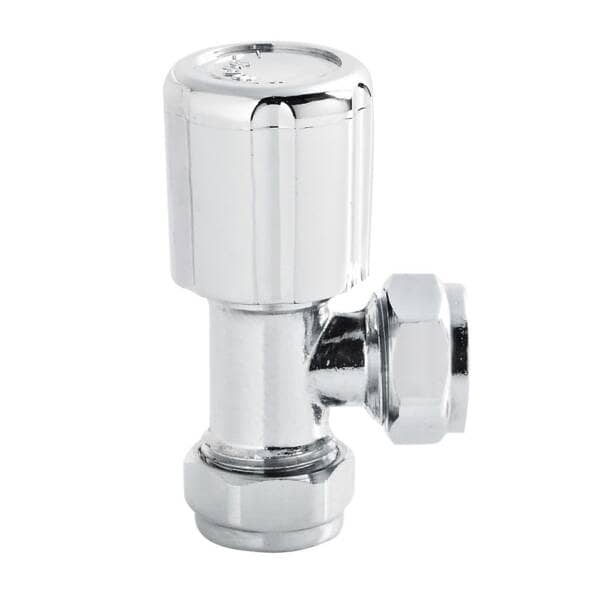 These radiator valves allow you to 'balance' the radiator – ensuring the water in the system is distributed evenly throughout the property – meaning your radiators will heat up at the same rate; thus making your heating more efficient.
Once a lockshield valve has been installed, you should not have to make adjustments to your home's heating, and you can change the style of a lockshield valve if you choose to upgrade your other radiatopr valves.
Did you know? – TRVs were invented in Denmark in the 1970's as a cheap way of controlling temperatures in large buildings.
What size of radiator valve do I need?
When I'm talking about what 'size' in relation to radiator valves, I don't mean the actual 'size' of it in terms of how big it looks overall – that will depend on your personal style and preference and how you want the finished radiator to look – instead, I mean the size of the fittings.
By that, I mean the width of the connections and the size of your pipework in millimetres.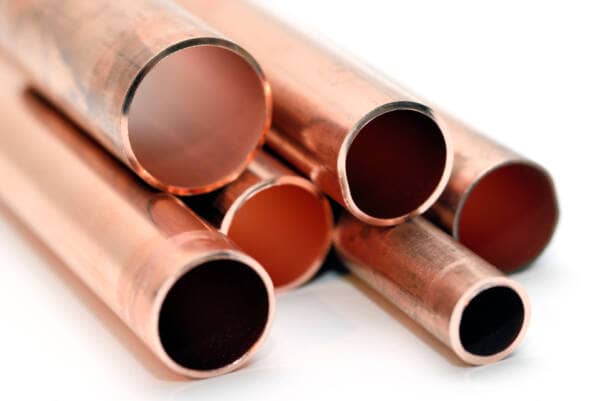 In the UK 15mm pipes are probably the only size you are likely to encounter as they are the most common. But there is also a range of other sizes available – ranging from 8mm to 28mm.
There are a variety of adapters and connectors that you can use with this size of pipework, but you're better off knowing the size of your pipework before you buy your radiator and/or your valves.
What style of radiator valves are available?
Here at BestHeating.com, we pride ourselves on providing you with a variety of different styles in our huge collection of contemporary and traditional radiators – and as you'd expect, our range of valves is no different.
The simple fact is, there really is no point in going to all of that trouble to style your home, get some shiny new radiators and then use the old radiator valves that you already had in place – you'll want to go the proverbial 'whole hog' won't you?
So you've chosen your radiators, measured your pipework and decided on whether you need manual or thermostatic, but what style of radiator valves do you want to get your hands on?
At BestHeating we have a great collection of modern and more traditionally styled radiator valves that will suit almost any type of radiator installation.
Here is just a small selection of what you can expect to find in the store.
Milano Windsor Traditional Thermostatic Angled Radiator Valve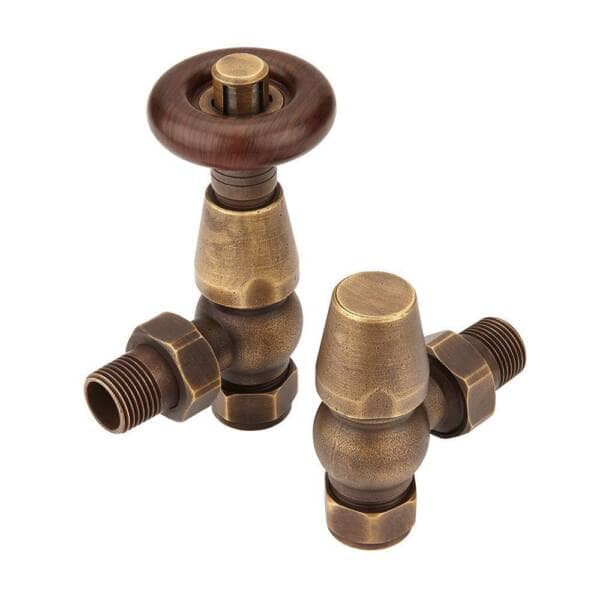 This stylish traditionally styled set of radiator valves is a great way to enhance the look of a period radiator like the Milano Windsor range.
Traditional Chrome Angled Radiator Valves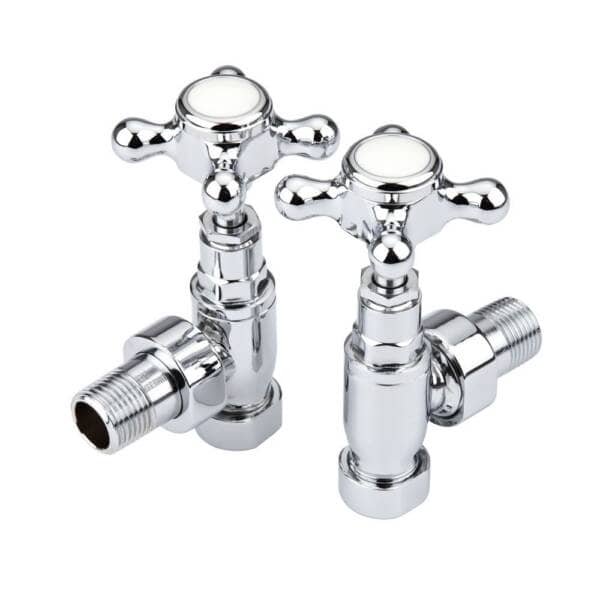 A more standard valve, this chrome pair of angled radiator valves are perfect for adding a sleek finishing touch to your radiator – and the design is such that they will work with both contemporary and traditional styling.
Milano Chrome Thermostatic H Block Straight Valve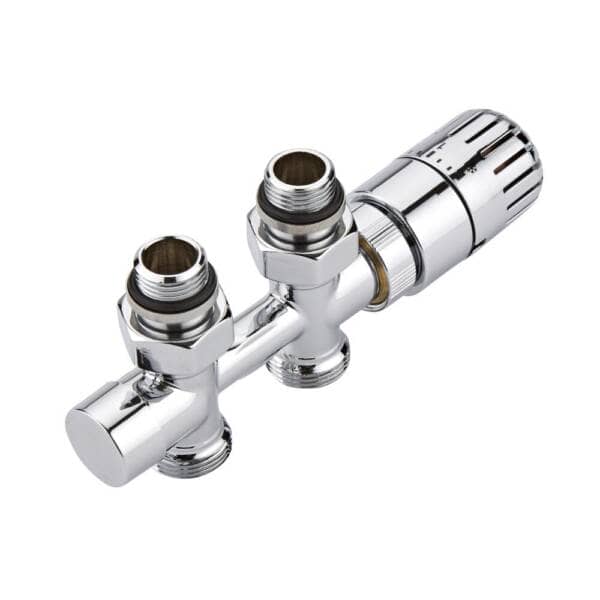 Designed to operate seamlessly with a range of central connection radiator and heated towel rails, this modern H-Block valve is a great way to hide away pipework and create a seamless finish to your home heating.
There are many more styles and designs of radiator valves available at BestHeating.com.
Important things to remember about radiator valves
What is the point of a TRV?
Though a great way to help regulate the temperature in various rooms of your home, TRVs can become something of a pointless addition if you aren't using them correctly.
For example, a TRV should never be fitted to a radiator in a room where there is a wall mounted thermostat. The reason for this is pretty simple; the two thermostats will be fighting with one another to increase or decrease the amount of heat needed to warm the space. So don't do it.
TRVs are also not best suited to a bathroom or showering space because the heat from showering or taking a bath can shut the TRV down. This can happen even when the TRV is turned right up to the top temperature – just when you require heat the most to prevent condensation.
Do I really need a TRV?
The truth is, with new smart home technology, you may not need a TRV and – alongside some of the more modern fixtures and fittings – they could be seen as a kind of primitive device.
It's important that you have them checked out at least once a year to make sure they are working correctly. There can often be a tendency for people to have them fitted and then leave them, thinking all the while that they are doing the job they were designed to do, only to find that they aren't working as accurately as they should be.
To ensure that they are doing the right job and you aren't completely wasting your time, it is important to ensure that your central heating system is correctly balanced. This practice of balancing used to be commonplace, but, thanks to TRVs at least, the newest generation of plumbers (sorry folks) tend to see balancing radiator as a lost art and no longer an integral part of fitting a system.
The future of radiator valves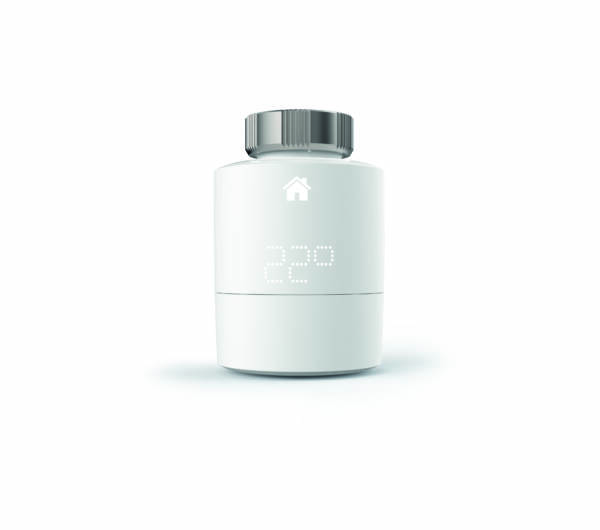 With home automation being, becoming and remaining the 'in' thing, you can hopefully expect to see a range of electronic and smart radiator valves coming on to the market – even here at BestHeating.com
Technology can always work smarter and we humans just love making things automated, so the chances of there being some sort of newfangled radiator valve being the big talking point next winter are a very real possibility.
But what does SMART Heating actually do?
To learn more about how it could save you a big chunk of cash and help to reduce the size of your home heating's carbon footprint, check out this amazing guide we did to SMART controls.
And don't forget, if you get stuck on your journey to a new set of radiator valves, you can always give us a call on – 0330 027 1490 – or drop us an e-mail at info@bestheating.com and we'll do all we can to help you to make the best radiator valve choices.
Frequently Asked Questions
It is true that the manner in which radiator valves are installed can factor into altering the Delta T value of hot water radiators, considering that the ratings are born of the connection between radiator water temperature and that of the ambient room temperature delivered by the central heating system.
Essentially, to ensure that best practice is followed in producing the full BTU output, lining up with the accredited Delta T rating, is to fit the flow valve at the top of the radiator and the return valve at the bottom, at the opposite side to the flow.
To find out more about Delta T values and their importance to your home heating choices, browse our blog, Understanding your heating output – A guide to Delta T radiator specs.
Radiator valves perform the function of controlling temperature, and they feature in pairs on radiators.
One valve, commonly referred to as the control valve, is used to turn the radiator on and off. It can also mediate the amount of water entering the radiator to influence temperature.
The other valve is the lockshield valve, which is used in the balancing of radiators within a heating system.
For a more detailed insight into radiator valves on the whole, explore our Radiator Valve Guide.
In general, radiators feature a pair of valves on the pipes which enable hot water to enter them.
The main radiator valve, often referred to as a control valve, is used to switch the radiator on and off for typical everyday use. This valve can also adjust the amount of water entering the radiator to alter temperature.
The other valve is the lockshield valve, which is an integral tool in balancing out each radiator within a heating system.
For more information, consult our Radiator Valve Guide.
A bleed valve is the small metal square or screw located within the surrounding nut, usually found at the top of the radiator corner, either on the left or right hand side.
It can be opened to release trapped air from within your radiators or heated towel rails.
Our guide on How to Bleed a Radiator offers a more detailed insight into bleed valves, and how they can be adjusted to help you make the most of your home heating.
A lockshield valve is the valve on a radiator that is usually covered with a plastic cap.
Lockshield valves need to be adjusted when balancing home radiators in individual rooms.
A lockshield valve will help to balance out each radiator within your heating system, ensuring they all heat up at the same rate.
To learn more about balancing radiators, check out our titled guide, How To Balance A Radiator.

John trained in journalism before finding his way to the BestHeating Advice Centre team. He uses his journalism skills to meticulously research heating topics and bring you the latest news and views on all things home heating related. He'll also beat you at any sport that involves a cue!