How A Designer Radiator Can Improve Your Home
Are you thinking of ways to improve the look of your home?
Are you struggling to heat a space in an attractive and stylish way and yet still maintain functionality and practicality?
Well, maybe I've got the answer…say hello to improving your home with Designer Radiators.
Why Buy A Designer Radiator?
A designer radiator is not only a functional piece of kit, but – if you make the right selection – it can help to add an extra dimension to a room and really enhance your homes decor; making a grand and show-stopping statement.
Like most things in the modern age, radiators don't have to be shy and retiring – they can add a sense of order, create a feeling of grandeur and (believe it or not) really kick-start a conversation between you and your friends.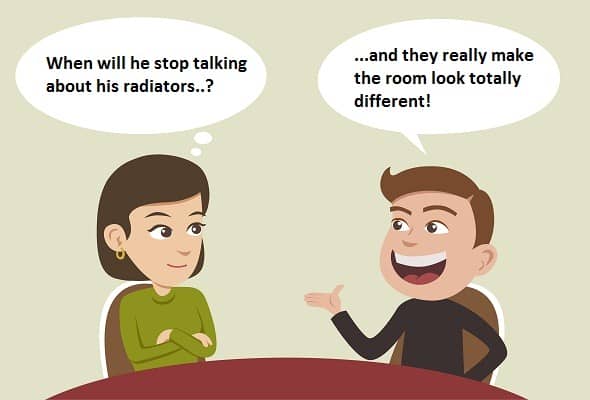 With so many design elements to think about when you've moved into a new house or started to redecorate your home, it's all too easy to overlook those shabby old convector radiators that adorn the walls of every room.
If you're like most people, chances are you'll hide them away behind covers or ignore them all together.
And it's not hard to see why; I mean, who wants to redecorate an entire space and have everything looking fresh and clean, only to have the same metal box ruin it all?
However, if you're prepared to part with some cash and take a good look around at what's on the market, you can quite easily promote your heating into an integral part of your decorating plans.
The results of doing this can make a huge difference to the quality of your home decor – as well as keeping you and your family cosy, warm and unquestionably stylish.
A Designer Radiator That Makes The Difference
If you're thinking of buying a new radiator and not making any changes to your home decor, my advice would be to try and choose one that compliments what you already have.
Unless you have big plans to change the way your room looks and want to put some decorating pants on, you should try and think of including designer radiators simply as an extension of all of the other important interior design decisions you've already made.
The beauty of modern designer radiators is that they come in all sorts of shapes and sizes to suit almost every need – so even if you aren't planning on big changes to your decor right at this moment in time, they can still make a huge difference.
Take for example…
The Vertical Designer Radiator
A perfect solution if you want to maximise available space, a vertical designer radiator will give you the same heat output as its standard counterpart and also look much more attractive.
Modern designer radiators allow you to be more individual than in years gone by – and home improvement projects up and down the country are benefiting from these stylish advances like never before.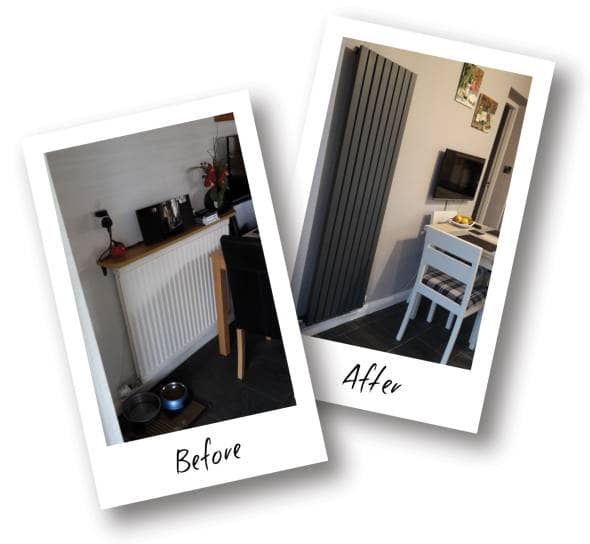 Let's face it, the only real redeeming qualities of most latter-day convector radiators were their affordability and the fact that they got hot – as good as they are at heating your home, if there's a tree producing boring radiators, then convectors probably hit a lot of branches on the way down!
Compare them to their modern designer brothers and sisters and there's just no contest.
Modern rads still provide the luxury of warm, comforting heat, but combine that functionality with stunning looks that can really make a space sing – it's pretty much a no-brainer in the style stakes when you think of it like that.
And you can mix your home improvement up (or is it sideways…) horizontally too!
The Horizontal Designer Radiator
Though still sleek, modern and stylish, a horizontal designer radiator is arguably a more traditional option than a vertical radiator and will release heat much like standard convectors do.
It's probably best to think of them more as a replacement for what your home already has, rather than a big design departure; though they'll still add a chic design element to your home improvement project.
You'll normally find the best place for them is in the same position as your current radiators (under the window), but with their clean lines and designer styling, they will add more of a spark than those tired convector rads.
If you do decide to place them elsewhere in the room – and not in their traditional spot under the window – then you'll have to consider exactly where your furniture is going to go; as putting your rad behind a sofa or an armchair will block the heat and be a complete waste of time and money.
Let The Transformation Begin!
As I've said – though your options are not completely limitless – the choice of radiators available to heat a space has grown considerably.
Your radiator can now be an integral part of your room's aesthetic appeal, helping to add an almost artistic air to the space – a loud and distant cry from the old white boxes of yesteryear.
Just bear a few things in mind –
Don't overlook your radiators position
Place it where it makes most sense
Avoid hiding it behind furniture
Work out if you need to move any pipework?
If all else fails take a look at our Radiator Buying Guide
Have fun!
So now that you're armed with the confidence to include one in your next home improvement project, make sure you work out the perfect size of designer radiator you'll need by using a BTU Calculator and start updating your space – your house will thank you for it, I promise.
If you have a home improvement project you want us to know about, or for plenty more hints and tips on all things home heating, please visit us on Facebook, Twitter, Pinterest and Houzz and don't forget, you can win back the cost of your new radiator in our free competition.

John trained in journalism before finding his way to the BestHeating team. He uses his journalism skills to meticulously research heating topics and bring you the latest news and views on all things home heating related. He'll also beat you at any sport that involves a cue!
https://wpcdn.bestheating.com/info/wp-content/uploads/2016/05/bh-blog-improve-home-designer.png?strip=all&lossy=1&quality=70&ssl=1
245
700
John Lawless
https://wpcdn.bestheating.com/info/wp-content/uploads/bh-wordpress-advicecentre-logo-196x50-2.png
John Lawless
2016-05-05 10:42:21
2019-10-23 11:16:09
Improving Your Home With Designer Radiators