I'm going to anger a few of you with this, but – New Year's resolutions are stupid things.
Make them too big and ambitious and it's only the supremely iron-willed and the stupendously resolute that will have any chance of following them to their conclusion; I mean giving up chocolate, are you out of your tiny little mind!?!
The thing is, exactly the same thing can be said when it comes to tackling our homes; give yourself too much to do, commit to too hefty a makeover job and you're pretty much guaranteed to get frustrated with it before you've even taken the paint stripper out of the box.
So like anything else, the trick is to take it slow. Go easy on yourself by undertaking small and more manageable tasks that might not seem to make much of an impact to the outside observer, but will help to make the world of difference to the appearance and everyday function of your home.
Here are some suggestions that we've dug up from around the web…
1 – Begin A Home Art Gallery
Okay, okay, you don't have to create the domestic version of the Louvre and invest in a Gaugin or Klee, but I bet that if you're anything like 99.999999% of all humans on the face of the earth, you've got piles of photos and pictures that are still waiting to get the exposure they so richly deserve.
Now is the time to splash out on some new frames for those little bad boys.
There are bound to be loads of shops that are trying to get rid of their last bits of stock at this time of year and mixing and matching frame styles will add a bit of character to a feature wall filled with pictures.
Get you hammer and nails out and create your own gallery at home. If you knuckle down it won't take more than half a day and it will finally shut your mother up about your 'distinct lack of pictures' and add to the sense of homeliness you've probably secretly craved.
2 – Get The Plants In
Despite their subtlety, don't discount the power of the humble houseplant to really transform a space.
Plants are packed with good vibes, and real greenery – either the big sculptural efforts or small leafy types – can help to instil a great deal of energy into your home, with minimal effort.
Many plants aren't just easy on the eye either.
Some more specialised varieties – like the rubber and spider plants (not rubber spider plants – don't worry) – can help to clear the air of toxins, while palms have the ability to act as natural humidifiers by releasing moisture into your room.
Don't be afraid to GO BIG on the plant side of things, a great big tree-like houseplant can go a long way to bringing personality to your space.
3 – Make Grout Great Again
Anyone with pure white grout in their bathroom will tell you that discolouration is the thing that frustrates them the most. But worry not, because it is easily dealt with if you take the time.
You can go out and buy an over-the-counter spray that will help to rid your tiles of mould and mildew or, if you don't fancy the chemical mix, why not go all earth mother and try out making your own natural cleaner.
It's easy.
Fill an old spray bottle with a little vinegar and warm water and let it rest for a few minutes, don the marigolds and spray it on your grout and get to work with a stiff bristled brush.
If you really want a supremely thorough clean, you can make a paste out of water and a bit of baking soda, cover the grout with that solution and then spray on the vinegar solution and add the old elbow grease.
4 – Make your hallway the entrance to the dream
Often overlooked as a bit of wasted transitory space, it's downright criminal to neglect your hallway.
It's pretty important in my opinion and should be the intro to the design tempo that is playing out in the rest of your home – so let's not let it be forgotten in your new year's overhaul.
First thing's first – clear the decks and invest in a well-made and solidly built coat rack, preferably with a swish built-in shelf. This is not only practical – because it conquers the jumble of coats and hats and scarves and stuff – but also a chance to show off some fine craftsmanship too.
Get yourself some rattan baskets to sit on top of the shelf – again to keep all the clutter out of the way – and if you have the room (like in the picture) fit in a shoe rack below it that's covered with a padded seat where you can sit while you're pulling your daisy roots on and off.
5 – Give your woodwork a lick of paint
Painting entire rooms can be a time-consuming task at the best of times – and if you have three kids in tow like I do, finding the time to consume can be a task of miraculous proportions anyway.
So, if you do want to kick a bit of life into your space, why not paint your skirting boards and woodwork.
For a simple pick-me-up, a fresh lick of white gloss can work wonders, or you could be a little more adventurous and go for a more contrasting shade that could add an extra dimension to your decorating.
I for one love the lime green skirting in the photo as it creates a border of interest around the room and shows some serious design skills without overpowering the space.
6 – Dust those lights down already!
If you are lucky enough and stylish enough to have a chandelier in your home chances are it's the focal point of the room, but let's be honest, to keep it looking spick and span it's going to need a good dusting once in a while.
This is obviously a fiddly and somewhat annoying little job (which is why you've put it off for so long), but it will make the world of difference once you've plucked up the courage and patience to undertake it.
Be sure that the light has been switched off for a while – to allow the bulbs to cool down – and get a sturdy stepladder so you aren't risking your life to complete the task.
Take a clean microfibre cloth and spray it liberally with glass cleaner and carefully wipe each piece of glass. Take off the residue with a separate dry cloth and polish to a shine.
If you have a chandelier that you can completely take apart, even better. Carefully take off each individual piece and dunk them in warm, soapy water (I find that washing up liquid is perfect), rinse off and leave to dry before polishing to a shine.
7 – Scrub up on those surfaces
Though normally associated with the worn effect on copper or bronze or even stone, there is something to be said for the worn and gnarled character – or patina – of some wood grains.
If – like me – your wood grain has been affected by large scratches and dents and is maybe starting to look a little too stained after years of polishing and cleaning, why not sand it all back and re-treat the surface.
If you use a lighter grit sandpaper and take your time again – being sure to follow the path of the grain of the wood – the finished article will look beautiful and won't lose its well-loved character.
8 – Buy a new radiator or give an old one a paint job
Yes, yes, yes, of course we are going to say that you should buy a new radiator (are you as mad as that person who said 'give up chocolate'?), but a shiny new addition to your home heating can be a relatively inexpensive way of transforming your space.
Alternatively, if you are happy with the rads and towel rails that you already have, why not go a little bit 'out there' and paint them a vibrant colour.
You could decide to disguise your central heating by painting them the same colour as the walls, or overhaul them completely with a pastel or bold paint – helping to make them a design feature in their own right.
You can use spray paint for a nice neat finish, but just make sure that you use paint that is suitable for use on radiators – this article can help you with that.
And if you really want a towel rail like the one on the picture, you can find them here.
9 – Don't forget your garden!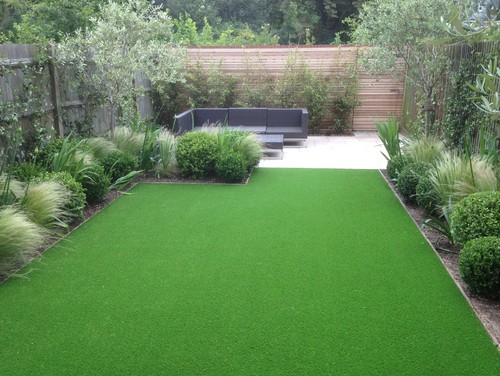 All too often in the life of a beautiful home, stunning interiors can be let down by hugely unloved gardens and outside spaces (trust me, I know).
To keep on top of things, try and minimise the work you need to do by making your garden as low maintenance as possible.
This is not only convenient for you whilst you reside there – because you have a space that can be used all year round – but is also appealing to any potential buyers should you choose to move on.
Present a low maintenance outside space to any would-be suitors and you can be sure you'll have offers flooding in, in no time at all.
10 – See the bigger (and better) picture
It's not unusual for us to leave our doors open throughout our homes, meaning that the décor in one room can be seen from another.
As with the hallway in number 4, keep in mind what your home is going to look like as a whole.
If you do have open spaces, try and pick up a couple of little furnishings that can tie entire spaces together and really add a sense of designer styling to your home in an instant – like this cosy cottage in the USA.
The grey flashes in the furnishings and pieces of furniture tie this entire open plan space together.
Make your resolution to not have a resolution
So don't let a new years resolution get you down.
I've already failed at mine cos I just cannot seem to keep away from dark 70-80% chocolate – I must have been out of my tiny little mind!
Start your design year off as you mean to go on and make small but significant changes to the way your home looks throughout the year.
It needn't be a huge struggle – and many things can be achieved in an afternoon – so get your design cap on and start to make the change.
Then maybe next year you can give yourself a 'proper' resolution…like not biting your nails or putting the toilet seat down/leaving it up.
Stay safe and happy heating.
Resolution Checklist
Embrace art
Buy plants
Clean up that grout
Transform your hallway
Paint that woodwork
Dust down light fittings
Scrub up those surfaces
Make radiators rad
Don't neglect your garden
Think big on tying your spaces together
And most important of all – enjoy yourself
Please Note – images above are used in accordance with Houzz terms, we love Houzz, you really should go and check it out if oyu haven't already!

John loves reading design blogs and bringing those ideas to the Advice Centre in his own inimitable style. When he isn't writing copy, you'll find him reaching out to industry experts to get the latest on all the heating news.
https://wpcdn.bestheating.com/info/wp-content/uploads/2016/01/bestheating_simplehacks16_blog3-002.jpg?strip=all&lossy=1&quality=100&ssl=1
231
660
John Lawless
https://wpcdn.bestheating.com/info/wp-content/uploads/bh-wordpress-advicecentre-logo-300x81.png
John Lawless
2016-02-04 11:42:21
2020-01-02 10:42:40
10 (Mostly) Simple Hacks To Improve The Look Of Your Home